Xtasy Da Mas Band
Written by MRL_admin on April 3, 2018
WHY JUMP WITH XTASY?
THE BAND WITH THE MOST VIBES
MORE MORE MORE!!!
INQUIRE ABOUT YOUR COSTUME TODAY!
INFO@XTASY.BAND
242-451-3847 / 242-357-3797
HERE'S AN IDEA OF WHAT YOU CAN EXPECT ON DE ROAD WITH US!
Breakfast
Lunch/Meal
Costume
Security
Toilet Access
Artists – Local & Foreign
DJ's – Local & Foreign
Cool down bus on the road
Drinks – Premium Alcohol / Top Shelf /Soft
Total Fun Experience
The total package, lot's & lot's of fun and a good experience!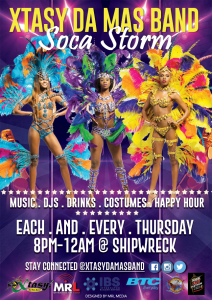 ---